This noodle is super good. I like it super spicy. Use less chillies if you don't like it spicy. Actually super hot is even better. So good and so hot it numbed my mouth...lol. Even my husband and sister-in-law like it. Yum Yum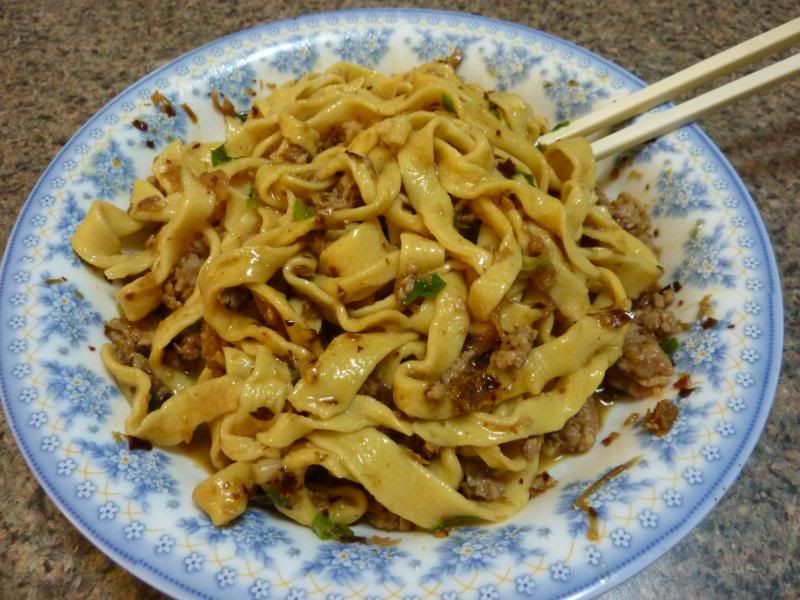 Ingredients:

XO Pork Sauce:
1 cup ground pork
3 stalks green onion chopped
1 tbsp oyster sauce
1/4 tsp salt
1/2 tsp sugar
1 tsp dark soy sauce
1/2 cup homemade xo sauce
2 1/2 cup water
2 tbsp ground dry chillies
Dried shallots

Method:

1. Heat pan with some oil then add in grounded dry chillies. Then add in pork. Stir fry until cook.
2. Add in oyster sauce, salt, sugar, dark soy sauce, and water. Cook for couple minutes.
3. Add in homemade xo sauce and stir fry. Do not let it dry, add some water if dry.
4. Add in chopped green onions.

Serve on noodles. Garnish with dried shallots.

Homemade Noodles:
2 cup all purpose flour
1/2 tsp salt
2 large eggs
1 tsp oil
1/3 cup water
couple drops yellow color

1. Combine all ingredients to form a dough. Knead for 15 minutes and let rest for 30 minutes.
2. Sprinkle table with flour. Use a rolling pin and roll dough out to very thin. Sprinkle flour as needed.
3. Roll the flat dough for easy cutting. (see pic)
4. Boil water and then add in the noodles. Boil until the noodles float. Test the noodle by taking a bit. It should be clear in the middle if it's cooked.
5. Rinse with cold water.