I made this XO sauce and it's so good for noodles or stir-fry veggies. I love it!!! Save it in the refrigerator and you can use it when ever you want to stir-fry or mix with dry noodles.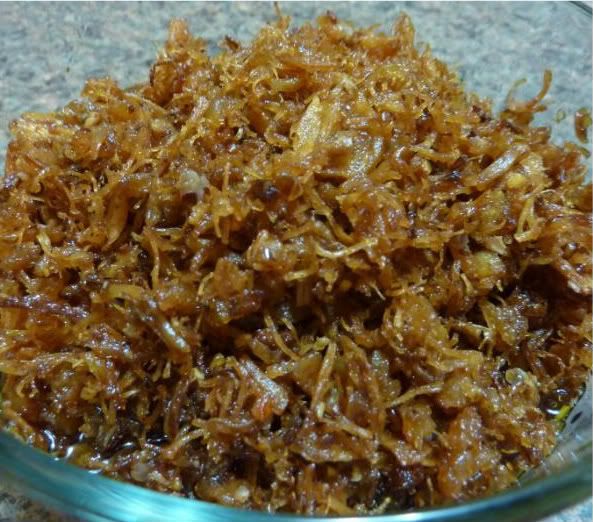 Ingredients:
1/2 cup dried small scallops
1/2 cup dried small shrimps
1 1/2 cup olive oil
15 dried chillies
4-5 small shallots sliced
2-3 cloves garlic
3 tbsp oyster sauce
2 tsp sugar
1/2 tsp salt
1/2 tsp msg
1/2 cup already fried shallot
Method:
1. Soak dried shrimps and scallops in different bowls for 6 hrs or overnight.
2. Drain the dried shrimps and place in chopper to give it a couple chop. Chop it coarsely.
3. Using hands tear the scallops in fine shreds. Then place in a pot and bring it to boil. Strain and squeeze out the water.
4. Place the dried chillies in chopper and chop finely. Set aside for later.
5. Slice the shallots thinly. Chop garlic finely.
6. Heat a wok and fry the shrimps for a minute and then scallops. Fry until lightly golden and then add in chillies. Fry for a minute and then add in shallots and garlic. Fry until shallot and garlic is somewhat dried.
7. Add in the salt, sugar, msg, and then oyster sauce. Now add in the fried shallots. Turn heat lower and stir until brown. Remember not to over cook as the scallop and shrimp will be too dry.
8. Let cool completely then refrigerate. This can keep refrigerate for at least 1 month.