So I feel like eating spring rolls. It took some time to cook the meat, shrimps, clean veggies, and make the sauce. Very easy to wrap and eat. I ate four spring rolls and they were delicious! Make everything ahead of time. This recipe feed up to 6 adults. You can leave the leftover food in the refrigerator and eat again the next day.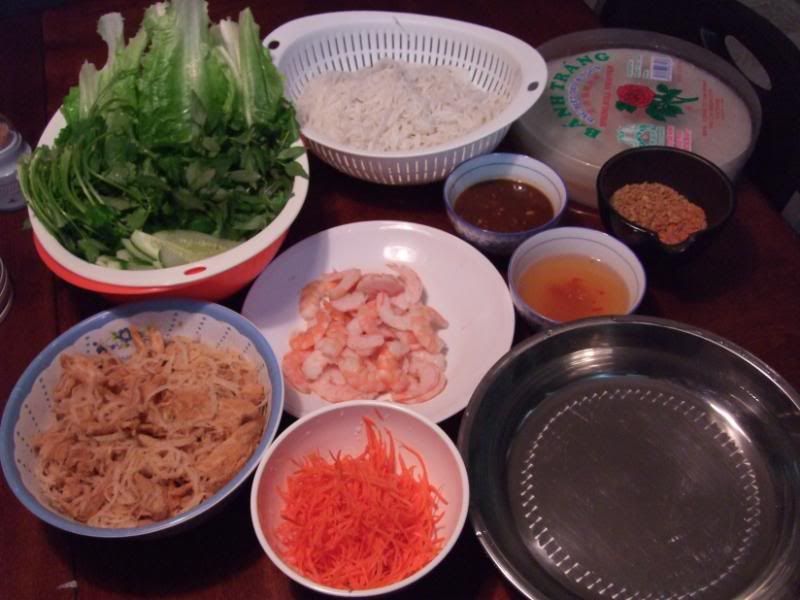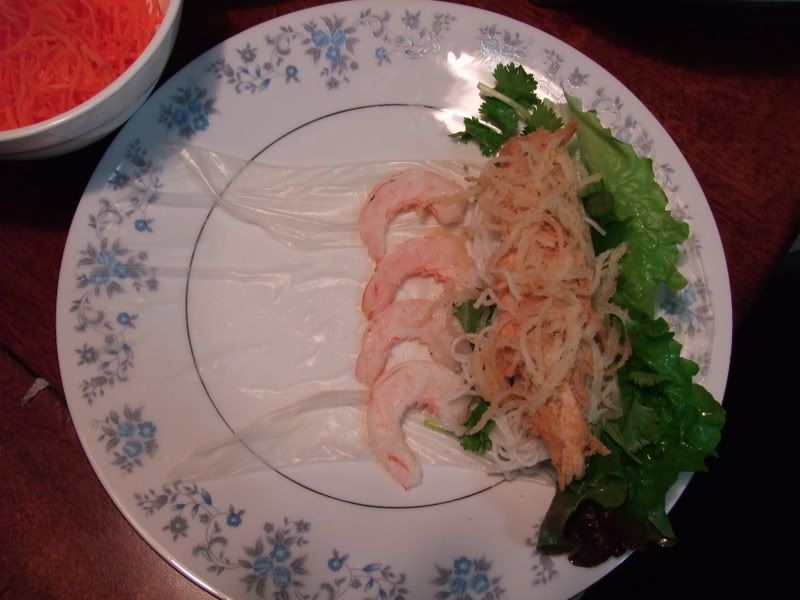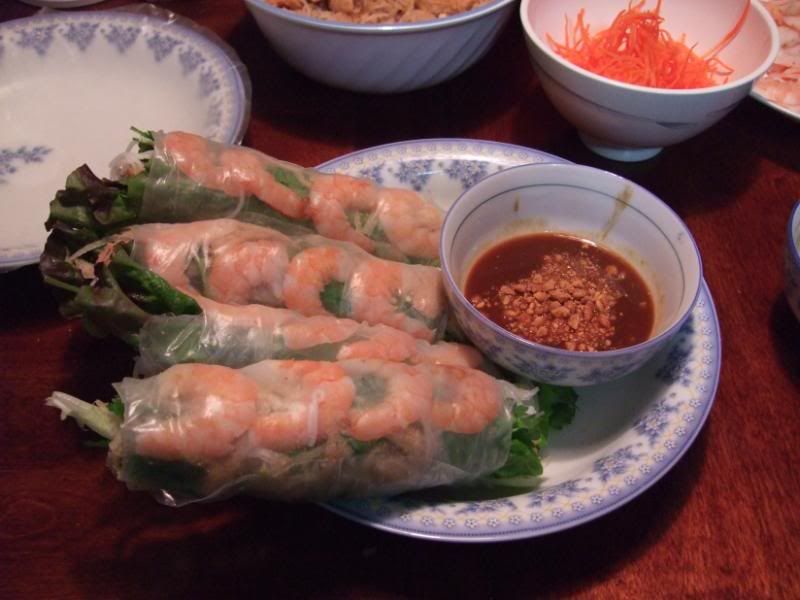 Ingredients:

1/2 bag rice vermicelli
1 lb lean pork
1 box rice wrappers (8.5 inch diameter)(You do not need to use all wrappers at once.)
1/2 lb large cooked shrimps
1 bag fresh Thai basil
1 bag fresh mint leaves
1 bunch fresh cilantro
1 whole lettuce
1 bag thinh (roasted rice powder)

Hoisin sauce:

65 ml water boiled
1/2 fresh lime juiced
2-3 pieces of garlic, minced
1 tablespoons white sugar
2 chili chopped
4 tablespoons hoisin sauce
1 teaspoon peanut butter (optional)
1/4 cup peanuts (put in the toaster over and roast at 350 F until golden brown. Remove skins and ground.)

Method:

1. Boil pork in hot water until cooked, about 30 minutes. After cooking, slice in thin slices and add in a dash of salt and sugar for taste. Then add in thinh, roasted rice powder.
2. Boil rice vermicelli in hot water for about 5 minutes or until cook. Do not over cook.
3. Boil shrimps in hot water until color changes and add in some salt. Then rinse in cold water, peeled, deveined and cut in half.
4. Clean all vegetables and let drain.

5. Boil water and add in hoisin sauce and peanut butter, stir until dissolved. Let this cool and then at in sugar, lime juice, garlic, and chili. Stir and taste. If too sweet, add in some fish sauce.

6. Use a big bowl to put warm hot water in. Dip one rice wrapper in quickly and then place on plate.
7. Fold in the two sides and place lettuce, basil, mint, and cilantro at one end. Now add on vermicelli, sliced pork and line the shrimps in the middle. Now roll inward from ingredient side to end.
8. Serve with hoisin sauce with some grounded peanuts.