What's for lunch today? Well something easy and fast to cook. Got these interesting mushrooms and they taste delicious. My whole family love them.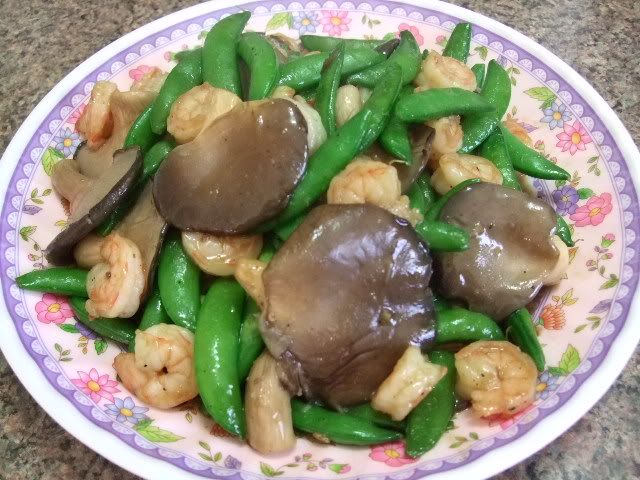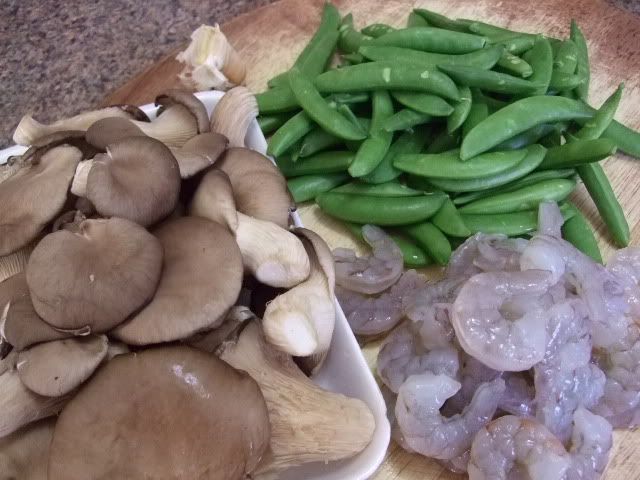 Ingredients:
1 lb mushrooms
1 lb snap peas
20-30 medium shrimps devien
3 pieces of garlic
1 tsp XO sauce (optional)
2 tbsp oil
1/2 tsp salt
1/2 tsp sugar
1 tsp fish sauce
1 tbsp oyster sauce
1 tsp soy sauce
1/4 cup water
1 tsp cornstarch


Method:
1. Boil a small pot of water. Put the peas in and take it out after 30 seconds. Then rinse in cold water. Now put the mushroom in the boiling water for 30 seconds and then take it out to rinse in cold water.

2. In a pan heat the oil and fry the garlic until golden. Add in the XO sauce and then the shrimps. Give it a couple stir. Add in a dash of salt and sugar.

3. When the shrimps are slightly pink, add in the peas. Give it a couple stirs. Now add in the mushrooms. Again a couple stirs. Add in the seasonning for taste. Mix in the cornstarch with water and then pour all over the veggie. Stir while pouring the cornstarch mixture. Do not stir fry too long or the peas will be soft and not crunchy.

4. Serve with white rice. Use fish sauce and chillies for dip.