One of the good dish to serve with rice. I once ate this at the restaurant and decide to make my own to save some money...lol. The three treasure include tofu, eggplant, and bell pepper. Stuff them with meat and then stir fry them. I made a big dish for the whole family since I got everything extra...lol. Cut the recipe in half and you get a regular size dish.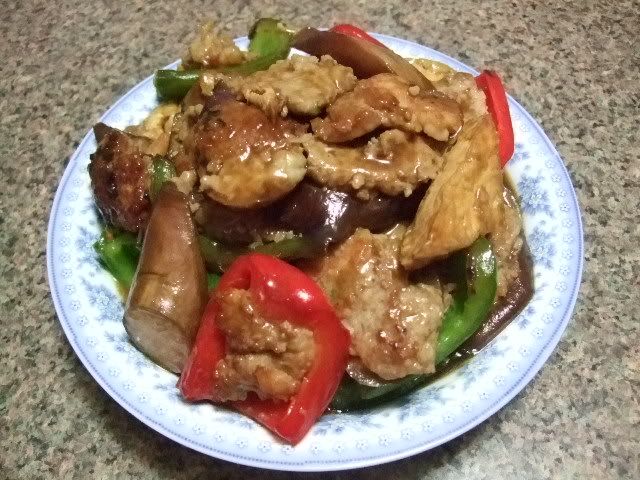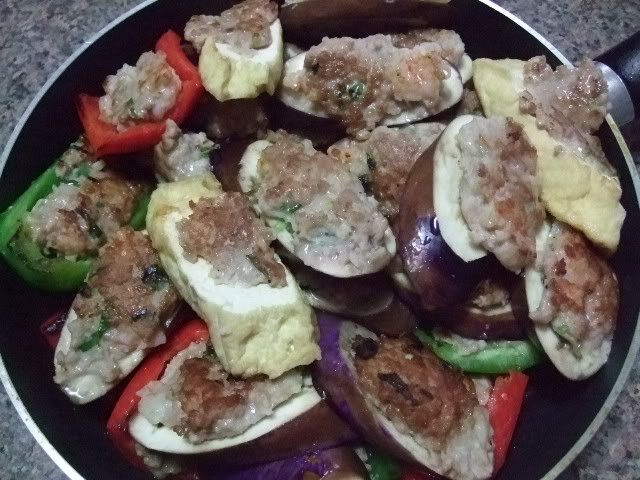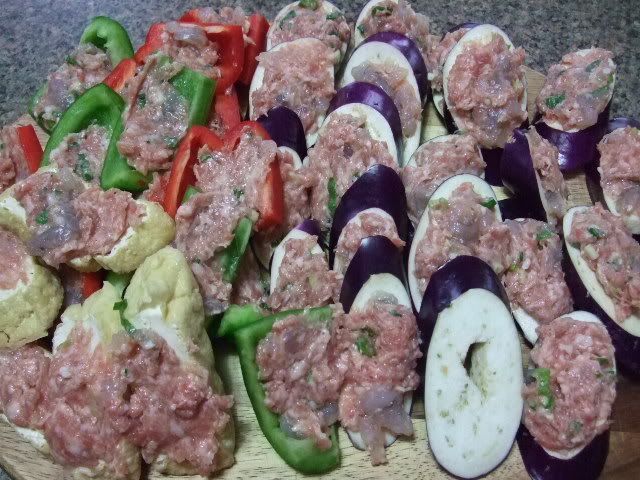 Ingredients:

Meat Stuffing:
600 gm ground pork
30 medium shrimps (flatten)
1 tsp salt
1tsp sugar
1 tsp fish sauce
1 tsp oyster sauce

2 eggplants sliced 1 inch thick
2 raw tofu (fried) and sliced
2 bell peppers (cut in chunks)

Seasoning Sauce:
1 1/2 cup water
2 tbsp oyster sauce
4 tsp fish sauce
1 tbsp dark superior soy sauce
1 tbsp soy sauce
1 1/2 tbsp sugar
1/2 salt
2 tbsp cornstarch or tapioca starch


Method:

1. Mix the meat and shrimps with seasoning. Add in a tbsp water if meat too dry.
2. Cut a small hole in the middle of the eggplants and tofu so the stuffing stay in place when fry.
3. After stuffing, fry the meat side down first. Fry it until half cook and then flip over to fry the other side.
4. Mix all the seasoning sauce ingredients together, except for cornstarch. Pour 1 cup of the sauce in the vegetable and let it bring to boil. Add the cornstarch to the left over sauce. Now pour it all over and stir gently until thicken. Once the meat is cooked then it is ready to serve.
5. Serve with white rice.