Time for more Vietnamese food. This is a very crispy crepe eat with fish sauce. The recipe was adapted from pwmf blog. I modified the recipe since the batter was too thick. You can also buy the banh xeo flour at the supermarket. I used ground pork, shrimps, and jicama. You can replace the jicama with bean sprout. I prefer the jicama as it gives a sweet and crunchy taste. You can purchase all ingredients at any Asian supermarkets.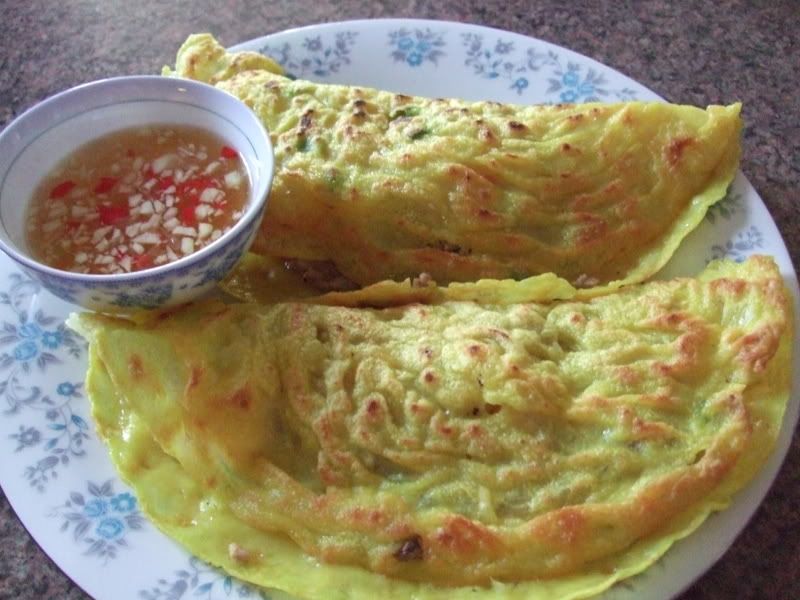 Batter:
-1 cup cooked rice
-4 cups water
-1 can coconut milk
-350g rice flour
-100g potato starch
-2 tsp turmeric powder
-1 tsp salt
-2 stalk of green onion chopped

1. Put rice and some water in a blender and blend until smooth.
2. Mix in with all the other ingredients except the onion.
3. Let it rest for ½ hour or more before making crepes. While waiting you can make the fillings.

Filling:
-1 onion sliced
-1/2lb ground pork
-1/2lb shrimp peeled and devein
-1 jicama or 2lbs bean sprouts
-2 stalks of green onion chopped

1. Slice onions making thin "rings". Leave it a side for later use.
2. Heat the wok and add in oil then the ground pork. Add some salt, sugar, fish sauce, oyster sauce for taste. Now add in the chopped green onion.
3. Heat the wok and cook the shrimps.
4. Chop the jicama in long strips and then stir-fry with some salt, sugar, fish sauce and oyster.

5. Now heat a nonstick pan with some oil. Add in just a couple pieces of onion rings. Stir the batter well and pour in one scoop (depend on the side of your pan) and swirl the pan around to make it even. Cover with a lid for 2 minutes. Remember to watch it and don't let it burn on the bottom. Open the lid and add some oil around the crepe, and cover again for another minute. Then add in some jicama, ground pork, and shrimps to one side of the crepe. Cover and let it cook for another 2 minutes or until golden brown on the bottom of crepe. Open lid and let it cook a little more until it's crispy. Flip the side without the fillings over (like mine) and serve with fish sauce. You can also eat with lettuce and herbs.

Fish Sauce:
Chop 2 chillies, 3 pieces of garlic, squeeze in 1/2 a lemon, 3-4 tablespoon sugar. Add 1/2 cup of water to the mixture and stir well. Then add in the about 3 tablespoon fish sauce. Stir and taste. If not enough taste then add in more fish sauce. If not sweet enough then add in more sugar or lemon if not sour enough.