Banh bo is another Vietnamese steamed rice cake. Banh means cake and bo literally means cow. It was said long ago there was a poor Vietnamese man who could not feed his family. One night in his dream, a cow appeared before him and taught him how to create this cake. He then got successful by selling cow cakes. This cakes taste so great when dip in coconut sauce. If you do this right, you will see the honeycombs in the middle of the cake. These cakes have the aroma of the coconut milk and a bit chewy and sweet.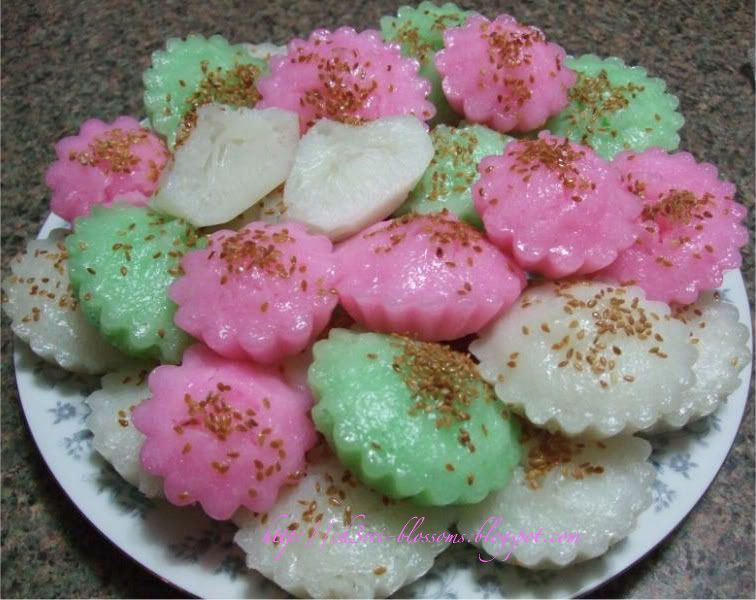 Ingredients:
1
1 bag rice flour (1 lb) (leave out 3 tbsp)
1/2 bag tapioca starch (7 oz)
60 grams fermented yeast (see below instruction)
1 tsp sugar
2 cups warm water (100F-110F)

2
1 1/2 cups sugar
1 cup water
1 can coconut milk (400ml)

1 bag vanilla

Step 1:

Ferment yeast:
***Chinese yeast ball (Ragi) pound to powder form. Use100 gm of cooled cooked rice, 1 tsp sugar, 1/2 tbsp yeast Ragi powder, 1 tbsp water. Mix everything together, cover and let it ferment for 3-4 days before using. After the fermented rice is ready, take only 60 grams out to use in step 2 below.

Step 2:

1. Add 3 tbsp of rice flour to the 60 grams fermented yeast to form a dough. Now pour the warm water into the rice flour and tapioca starch. Stir while pouring the water in. Now add in the yeast dough. Stir well.
Ferment it over night until bubbles formed. (1)
Step 3:
2. Cook sugar into boiling water and stir until dissolved. Let it cool for 2 minutes before pouring into the flour mixture. Stir well and let it ferment again until you see bubbles formed. Add in 1 can coconut milk and let it ferment again for another hour. (2)

The more bubble the more honeycomb. - Put in vanilla at the end when about to steam.
3. Divide the batter into 3 and mix in your color. Or just leave it white.
4. Heat up the water and oil the molds. Steam the molds for 1 minutes or until hot and then pour in the batter. Steam the cake until cooked....10-15 minutes. When about done, sprinkle some roasted sesame seeds on the cakes. Serve with coconut milk sauce.
Coconut Milk Sauce:
Cook 1 can coconut milk with 2-3 tbsp sugar, pinch of salt, and 1 1/2 tbsp corn starch. Remember to stir and not let it bubble up or stick to the pan. Add more sugar if needed. If you like the sauce to be thin then us less corn starch.