Time for more dessert again. This is a Vietnamese dessert. If you love mung bean then this is the dessert for you. For Vietnamese, almost every dessert eats with coconut milk. This is a big pot of dessert that you can eat for two days or maybe three if it's just you and another person. I think this pot can serve at least 6 people. Reduce the amount if you're just planning for two people.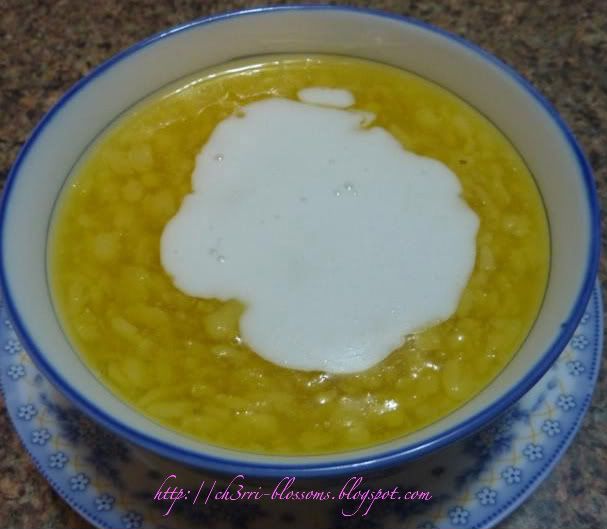 Ingredients:

300 grams split hulled mung bean (soaked for overnight or at least 2 hrs)
270 gram rock sugar (use the yellow type)
6 cups water
1 tsp yellow coloring (just about)
7 tbsp tapioca starch
1/2 cup water

Coconut Sauce:

1 can 19 oz coconut cream
1/2 cup water
2 tbsp sugar
1/2 tsp salt
1 tbsp tapioca starch
1/4 cup water

Method:

1. Drain soaked mung bean and steam over cheese clog until soft but not mushy. Maybe 20-30 minutes is enough. The mung bean should still hold it's shape.

2. Boil 6 cups of water. Add in the rock sugar and stir. When rock sugar melt, add in the yellow food color and stir. It should be light yellow but not too light.

3. Now mix 1/2 cup water with 7 tbsp tapioca starch and set aside to use later.

4. While the sugar water is boiling, pour in the steamed mung bean slowly. Us the chopsticks to stir gently.

5. Now stir your tapioca mixture and pour it in slowly and the other hand should keep on stirring the mung bean soup. Reason for not pouring in all at once is because we do not want chunks of tapioca forming. We want the soup to be smooth. Stop pouring in the tapioca mixture once the soup is thicken. We do not want the soup to be too thick or too watery. If the soup is still watery after you pour the whole tapioca mixture in then mixture some more tapioca mixture to add to the soup.

6. Remember to turn off the heat once the soup is thicken. We do not need to cook this any longer since the mung bean is already cooked. We want the mung beans to still have its shape.

7. In a separate pot, mix 1 can (19oz) coconut cream, with 1/2 cup water, 2 tbsp sugar, 1/2 tsp salt and bring to slow boil. Remember to stir. Mix 1 tbsp tapioca starch with 1/4 cup water to thicken the coconut sauce. If you still have the left over starch for the mung bean then use some of that. You do not need to use the whole mixture, just use enough to make the coconut sauce thicken and creamy.

8. To serve, pour some mung bean soup in a bowl and top with lots of coconut sauce.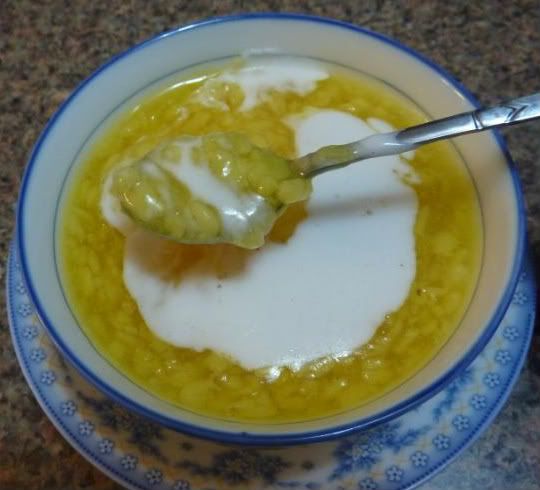 Of course I add more coconut sauce than this! :)