I just had a feeling of wanting to eat some puff pastry. So I went and google some recipes for flaky pastry. There are some recipes for yam pastry but I only have taro. So I decided to make my own taro pastry. The truth is I've never eat this pastry before. I think they do sell them as mooncakes but never had a chance to taste these. The result is very good...except the color was gone after I fried the pastry! I need to bake them next time instead of frying. I think this is also good if I make a salty fillings. Got the dough recipe from auntyochana blog. Sure will make these again next time.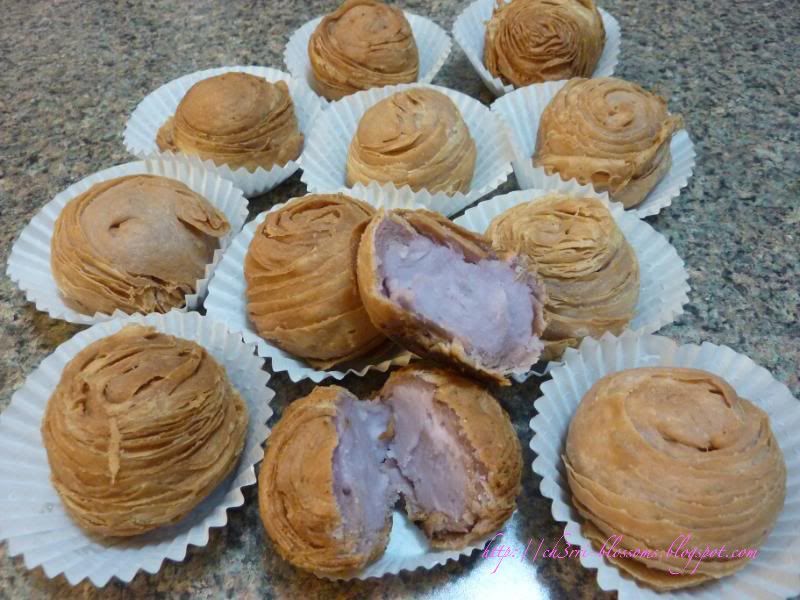 Fillings:

500 gm steamed and mashed taro
145 gm sugar
1 cup water
4 tbsp all purpose flour

Method:

1. In a pot heat the water and sugar together. You can add a little purple to give the filling a darker color. Then add in the mashed taro.
2. Stir well and then turn heat low. Taste and if you need to add more sugar then add more. Now slowly add in one tablespoon of flour at a time until the mixture is thicken but not so thick that you can't stir.
3. Remove from heat and let it cool down before forming balls. After cooling the taro will be harder and easier to shape. Make 16 balls then place them in the refrigerator to continue cooling. (Note: If it's too sticky then use some flour on hands before handling the taro.)

Water Dough:

200 gm all purpose flour
1/2 tsp white vinegar
50 gm shortening
30 gm sugar
100 gm water

Oil Dough:

180 gm all purpose flour
100 gm shortening

Method:

1. For water dough, mix water, sugar, and vinegar. Mix to flour and add in shortening. Knead to a soft dough. Let rest for 20 mins. Divide into 4.
2. Knead flour and shortening together for oil dough. Divide into 4 parts.
3. Know flatten the water dough and place the oil dough in the middle. (see pics below). Roll it out and then fold and roll out again. Then roll it into a swissroll and cut into 4 pieces. Repeat for the rest of the dough.
4. Flatten each piece of dough and you will see the spiral. Place the taro ball in the middle of the dough and wrap it. Remember the pretty side on the outside so when you fry you can see the spiral.
5. Heat oil and fry until golden. It should only be two to three minutes since we do not need to heat the filling. Only need the dough to cook.