For my brother and sister I made their favorite fish balls. I made a big pot more than enough for 6 people. However, my brother finish 1/3 of the pot by himself overnight. :)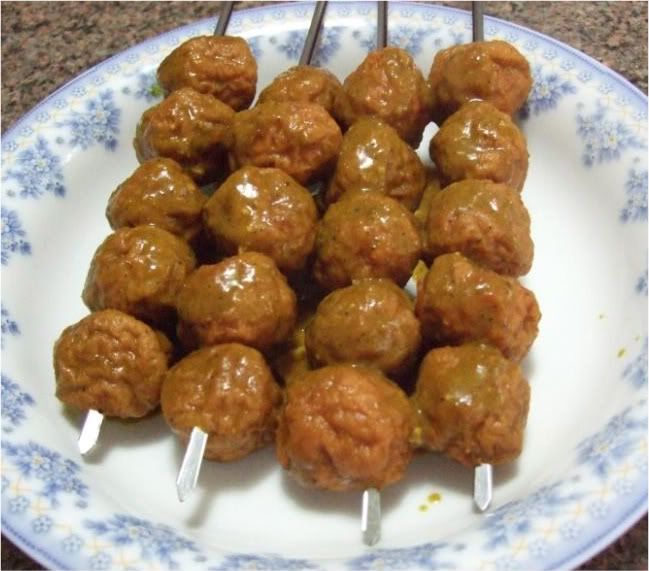 Ingredients:

4 bag milk fish balls
2 bag shrimp balls
2 can quail eggs

Seasoning:

15 gm curry powder (about 2-3 tbsp)
1 tbsp turmeric
1 tbsp salt
3-5 soup spoon fish sauce
1/3 piece brown candy sugar
1 tbsp oyster sauce
2 tbsp soy sauce
6 cup water
1 can chicken broth
2 tbsp vegetable oil
5-6 hot chilies (will be spicy)


Method:

1. Fry the fish and shrimp balls until golden brown. The quail eqqs are hard to fry since it will pop open and cause bubble in oil. I only fried it a little at the end.

2. While frying the fish balls, in another pot heat the oil and add in the curry and turmeric powder. Fry in medium heat until you can smell the curry but not burnt. Add in the water and chicken broth. Bring it to boil and add in seasonings. Add more fish sauce for taste. Also add in more curry if you can't taste enough curry.

3. Now add in the fried fish and shrimps balls. Also, add in the broken fried quail eggs. Let it simmer until the sauce is somewhat thicken. Now add in the chilies and try to break the chilies to release the flavor. Remember to taste to see it and add in more season as needed. It should be tasty, spicy, not too sweet, and full of curry flavor. It should not be salty either.

Note: The longer you fry the fish and shrimp balls, the more chewy it will be. Chewy is good! This is good to eat alone or with rice. The egg yolks make the sauce creamy and super rich!