Banh da lon also known as pig skin cake. The reason, I don't really know. Perhaps the texture and the layers make it similar to pig skin...LOL. This is a Vietnamese cake made of tapioca starch, rice flour, mung bean, and coconut milk. The flavor is sweet and gelatinously soft in texture. The tapioca layers are great with the mung bean layers. One soft, the somewhat chewy...mmmm....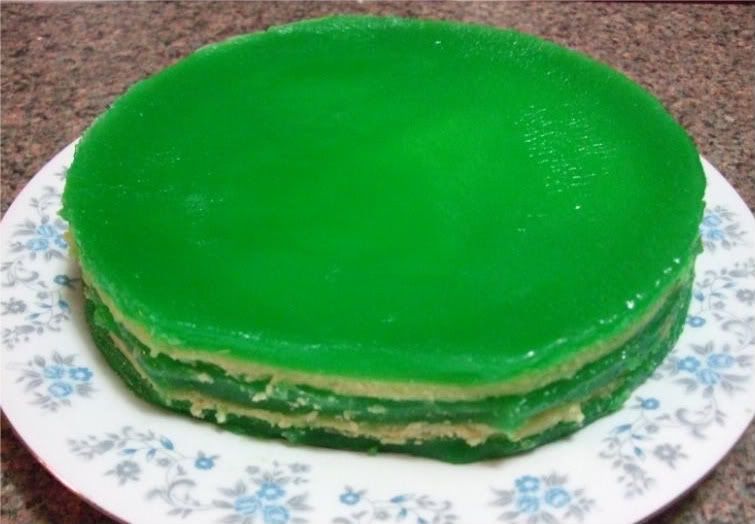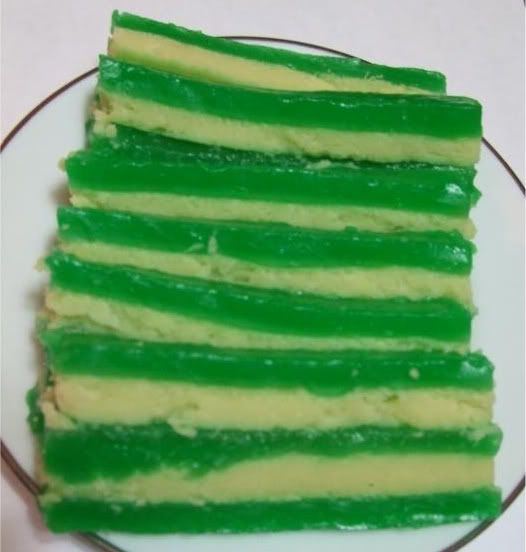 Green Layer:

300 gm tapioca starch
120 gm sugar
2 tbsp rice flour
250 ml water
200 ml coconut milk
1/2 tsp of pandan paste
3-4 drops of green food color

Mix everything together until smooth.


Mung Bean Layer:

125 gm hulled mung bean (soaked for 3+ hrs)
85 gm sugar
50 gm rice flour
3 tbsp tapioca starch
200 ml coconut milk
1/3 cup water
1/3 tsp salt
2-3 drops of yellow food color

1. Steam mung bean until cooked. About 30 minutes.
2. Let mung bean cool a little and put it in the blender with coconut milk and water. Blend until smooth. (The mixture is a little thick, so blend it slowly to prevent motor burn.)
3. Take the blended mung bean and mix with sugar, rice flour, and salt. Mix well and then add in the food color.

Methods:

1. Heat a steaming pot with water. Oil an 8 or 9 inch pan (or smaller molds). Place the pan in the steamer. Do not need to heat the pan ahead of time.

2. Now pour in the green layer, about 1/2 inch thick. Steam until the cake is clear green, cooked. About 15 minutes.

3. Pour in half of the mung bean, about 1/2 inch thick or thicker. Use a spatula to smooth the mung bean. Steam for another 15 minutes.

4. Now pour in another green layer. Steam until cooked.

5. Pour in the mung bean layer and steam until cooked.

6. Last is another layer of green. Steam for 20 minutes or until cooked. Remove and leave to cool.

7. Depending on your mold, you might have to use a knife to cut the edges to help ease getting the cake out.

8. Slice and serve cool.