One of my fiance's favorite bot chien with eggs and scallions. This is my first time making this and it taste delicous. For one rice cake you can make 3 dishes out of it. You do not need to make everything at one time. Can always save the cakes for next day.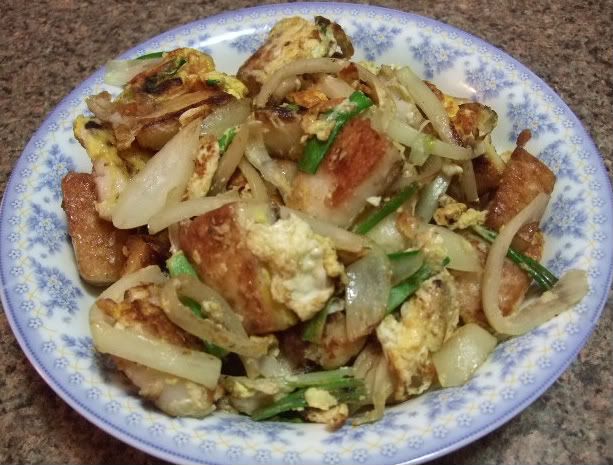 day 1 with onions. Very good since the onion give it a sweet flavor.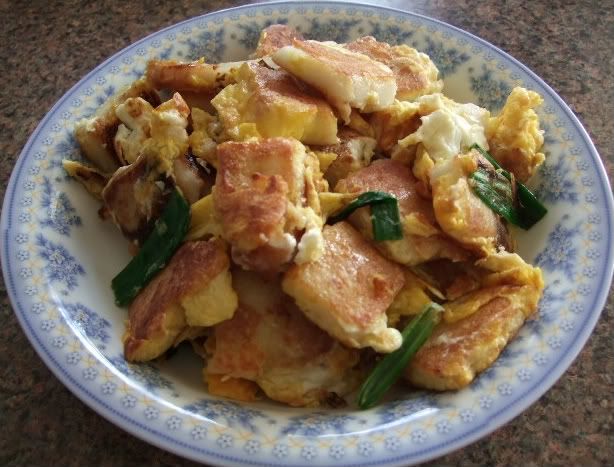 day 2. No onion but more eggs and scallions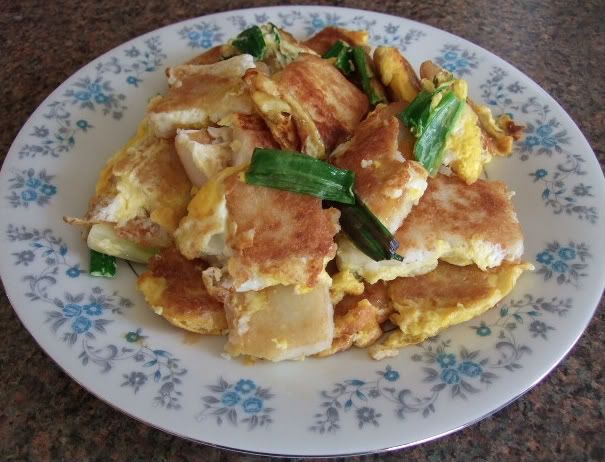 day 2. No onion but more eggs and scallions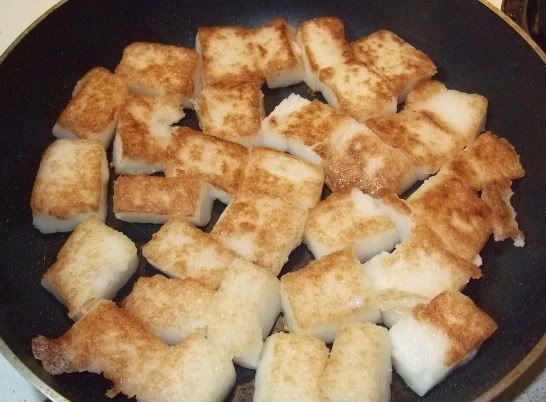 This is how it should look like. Pour eggs and scallion over it and then flip to cook.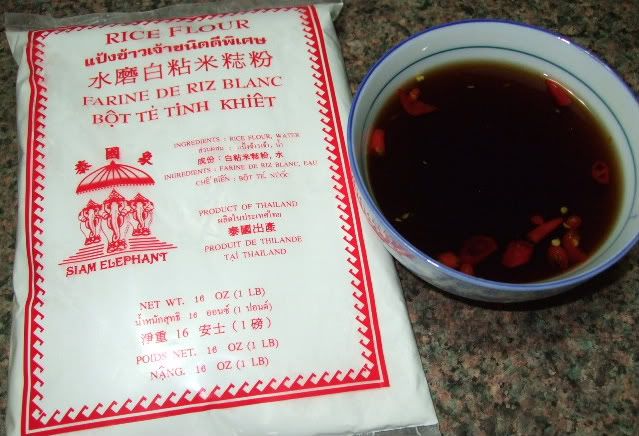 Picture of the flour and the sauce.
Ingredients:
1 bag of rice flour (1lb)
3 tbsp cornstarch or tapioca starch
1/2 tsp salt
1/2 tsp sugar
1/4 tsp MSG (optional)
2 tbsp oil
7 cups water



For stir-fry:
1 bunch scallions (the more the better)
10 eggs (for the whole cake)
Onions (optional)



Dipping sauce:
Use dim sum sauce or make your own.
1/4 cup soy sauce
1/2 cup water
1 1/2 tbsp sugar
2 tbsp vinegar
3 hot chillies chopped
Mix everything together and taste. Best to add in Sriracha hot chili sauce when eat.
Method 1:
1. Mix everything together and stir well.


2. Heat a pot of water to steam the cake. Once water hot, pour misture in a pan and steam for 30-40 minutes until done. When insert a chopstick in and it comes out clean then it is done.


3. Have to let the cake cool and harden before cutting. Cut the cake into 1-2 inch rectangle pieces.


4. Use some oil to fry the cakes until golden brown and crispy. Fry both sides.


5. Add in as much eggs and scallions as you like. Stir fry until cook.


6. Serve with soy sauce and hot sauce.
Method 2:
I think this method is better as the cake come out softer and easier to steam and cut.
1. Mix all ingredients together for rice cake.
2. Put the mixture in a pot and heat until slightly thicken. Remember not to turn fire too high. This part is very tricky as you have to constantly stir the mixture to prevent uneven cooking. (Best if you use a beater to blend it afterward for a more smoother texture.)
3. When mixture is slightly thicken, pour in an oiled pan. Then steam until cook. The steam time should be shorter and the outcome should be better. :)